1.3 FEATURE PROJECT: MANGWANA HILLTOP VILLA, BEQUIA
December 3, 2012 by Brian Lewis
On the edge of the steep hillside overlooking Friendship Bay below and the Caribbean beyond is an amazing vacation villa known as Mangwana. The house is contemporary in design and certainly not your typical colonial interpretation of Caribbean architecture. I had an e-mail exchange with Architect Jack Edgley only to discover that we both studied architecture at the Architectural Association in London. Edgley claims "the house seeks to reinterpret the classic modern house in a hot climate with large open spaces and overhanging roofs…" The house is designed as a series of spaces that capture the views but are positioned to create a private communal space around a swimming pool perched on a step hillside. Finishes are rustic and unpolished using a palette of roughly rendered walls and concrete floors. Exterior walls are stained green in a natural aesthetic designed to weather so as to merge with its environment. The thick tall reinforced concrete walls emerge like ramparts from the surrounding jungle providing a robust structure to withstand hurricanes and earthquakes.
I allocated two days to photograph this villa because Richard, the owner, had warned me that there would be challenges dealing with the difficult site conditions. When I first arrived I spent a couple of hours just scoping out the project and quickly appreciated that the movement of the sun at that time of the year [May] was critical – the best views of the house from below had to be shot before noon, so I scheduled these for the second day. Also the weather was overcast and had been quite inclement days before so I had to work with the weather as a priority.
Mangwana is a very photogenic house and its sheer scale presents many opportunities for impressive perspectives. Two days was not enough! Mangwana really comes alive at dusk but I almost missed the opportunity because of the very strange light switching arrangement that I only managed to master just in time. Exterior shots of Mangwana are difficult due to the steep and overgrown surrounding terrain.
Daytime shooting in the great room was a challenge because of the extremes in light levels resulting from the large door and window openings. Transporting a heavy lighting system from the boat proved to be impractical and so I had to revert to heavy bracketing of exposures and post-production High Dynamic Range compositing techniques to balance the lighting.
The essence of the design of Mangwana can also be found in its detail and I enjoyed searching for and finding graphic compositions that capture the character in its parts without showing the whole. In my mind these cameo images expand the interpretation beyond the specific project and carry in themselves the roots of thought to other places for germination … food for thought.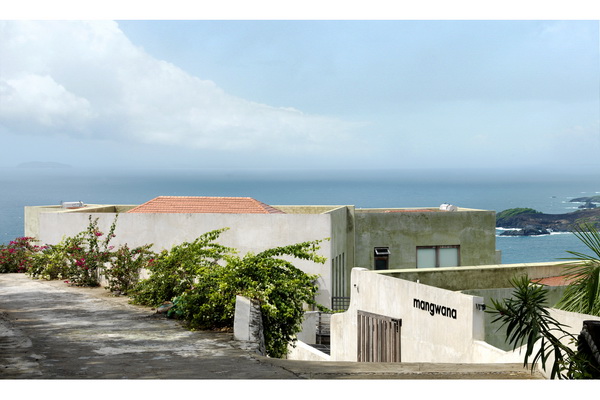 Mangwana is entered from an upper driveway with a view overlooking the Caribbean beyond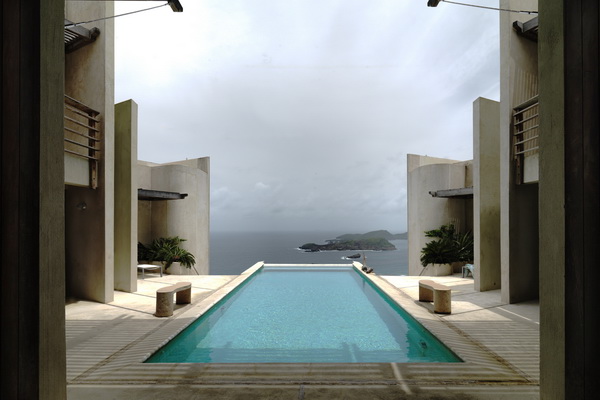 The house is designed around a swimming pool and is completely private from its surroundings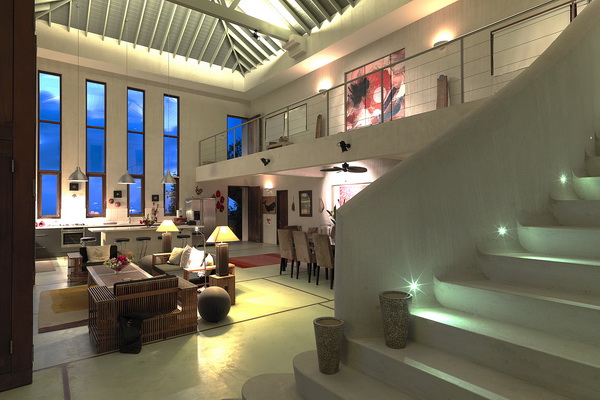 The entrance is at the upper level via a bridge overlooking the impressive scale of the great room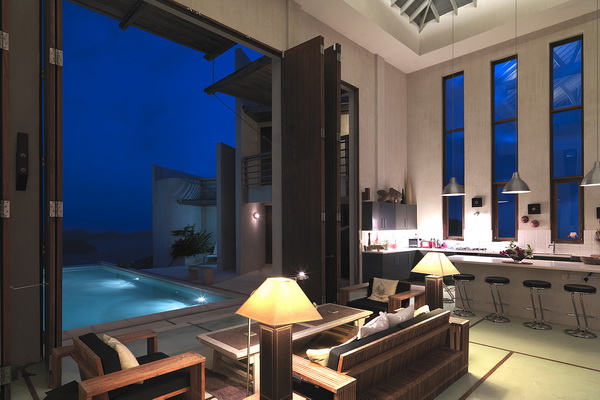 Tall pivoting timber doors open up the living areas the pool terrace and vistas beyond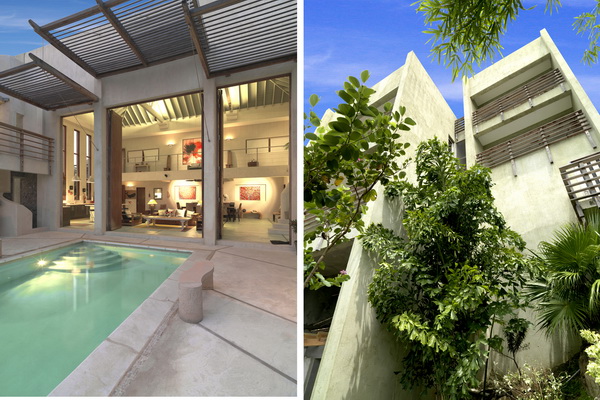 The scale of the artwork is in keeping with the grandeur and simplicity of the great room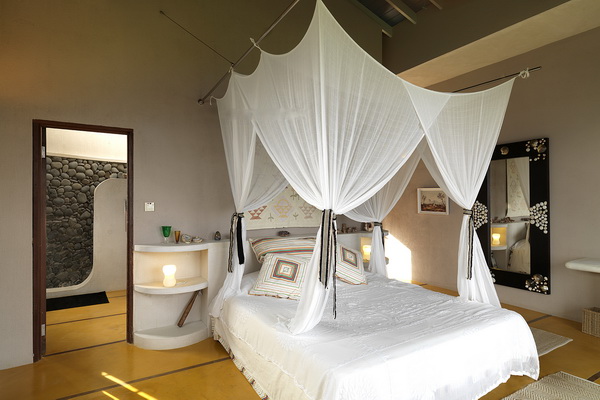 All bedrooms open outward towards the hilltop views. Colored concrete floors, pebblestone showers and lofty ceilings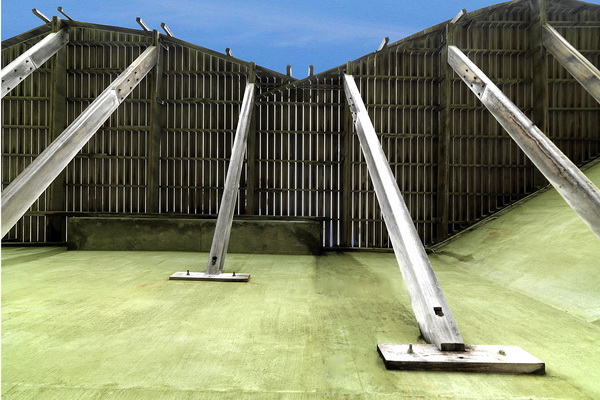 a view from below looking up below the lower timber deck that is propped off the green stained reinforced concrete walls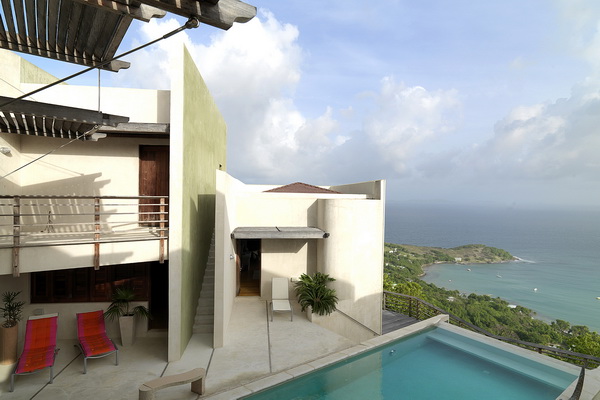 From the pool terrace narrow stairs flanked by concrete walls lead to bedroom suites at the upper levels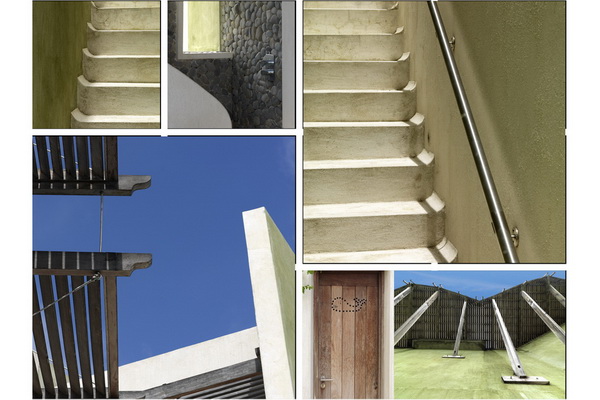 details of the stairs, trellis, flying deck, shower enclosure, door ventilation