31.1 SANTA FE ARCHITECTURAL PHOTOGRAPHY WITH NICK MERRICK
It took me a while to acclimatise to the 7,000 foot elevation at Santa Fe until someone suggested I go to an oxygen bar. In Santa Fe you can buy pure oxygen in cans to inhale when your energy levels drop.
The Santa Fe Workshops are held at the IHM Retreat Centre just off the Old Santa Fe Trail in New Mexico where there is a campus of buildings that include studios, classrooms, a photographic shop, offices, dorm housing and dining rooms. Our Architectural Photography workshop was one among four workshops being held separately but simultaneously Workshops begin with a social evening with talks by tutors and ending with a dinner and presentation of 'students work'. The Santa Fe photographic workshop is a well-run professional photographic experience.
Each day would begin with a review of work by students at the centre followed with a demonstration by Nick Merrick in the field after which students we given an opportunity to make some images of their own working in small groups of three or four. Somewhere along the day we would take a short break for a packed lunch provided and then returned to the centre for post processing.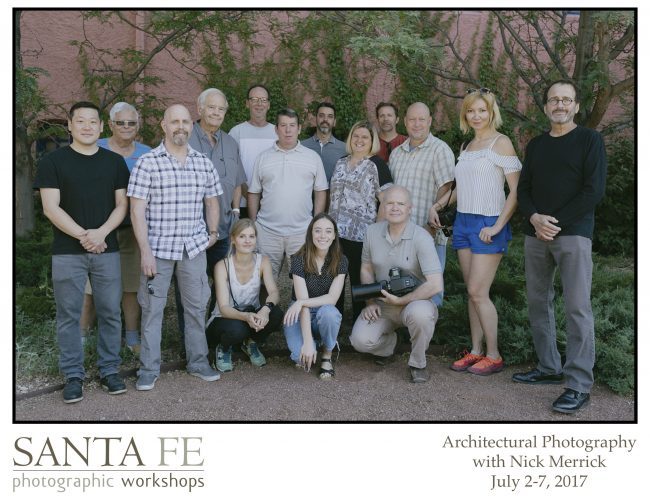 The First Day we photographed Restaurant Martin. Nick set up his technical camera tethered to a laptop and begun making a picture, talking us through his thought process and watching his adjustments. At first it was an eyeopener to witness how much time and effort Nick takes making small adjustments over two hours to get his composition just right. After the demonstration our groups went off to find other spots within the restaurant, but it was very cramped with all the tripods and umbrellas.
Day Two begun as usual with a review of a selection of slides of our previous day's photographs. We then visited Casa e San Juan, a two storey apartment in the desert outskirts of Santa Fe. Nick set up to photograph the apartment's interior from the exterior, a decision I thought was near impossible with the bright midday sun. Out came the lights and gels and after endless adjustments Nic got the shot, after which our groups had to struggle to find views within the crowded apartment.
Day Three began with a dawn session at the State Capitol known as the Round House. To be honest I skipped the early morning: my excuse was I was in need of oxygen! After breakfast I joined the group to photograph the House Chambers at the Round House. Again Nic adjusted his technical camera within a three foot diameter sphere of space, changing lenses, adjusting perspective, camera height until he was satisfied a couple of hours later.
Day Four was at the Scottish Rite Freemasonary Temple, a massive imposing structure. I got off a few shots of the exterior and then we all went into the entrance lobby space for Nic's demonstration. Later we all went into a large auditorium space to photograph the interior using all the lights we could muster as a group. That evening we all met for dinner in Restaurant Martin as a social evening to relax.
Day Five was really interesting photographing the Santa Fe University of Art & Design – a very photogenic piece of architecture designed by Antonio Legorreta. In the evening was the final dinner and slide show of students work by all the workshops. All good things come to and end so it was time to say goodbye to everyone at the workshop.
I have now attended a number of architectural photography workshops but Nic's opened my eyes on the effort it takes striving for perfection. He also introduced me to the idea of 'motonomy' – a figure of speech, or in this case, a graphic idea in which a thing or concept is not known or represented by its whole, but by a part intimately associated with that thing or concept.
Nick Merrick, partner, principal, and senior photographer with the architectural photography firm Hedrich Blessing, is recognized as one of the leading architectural photographers working today. His work appears regularly in architectural and design journals worldwide, and he organized the retrospective monograph Building Images: Seventy Years of Photography at Hedrich Blessing and its companion traveling exhibition. Nick has lectured and exhibited widely, and this is Nick's 12th year teaching at the Santa Fe Workshops.
Santa Fe Photographic Workshops has established itself as an enclave of creativity, scoring high on both educational and recreational counts. Its location provides enough subject matter for almost any photographer's desires, whether these run to landscape or human culture. New Mexico has long been a place of pilgrimage for photographers, famous for its very light. Workshoppers are often seen at such iconic locations as the adobe Ranchos de Taos Church or seeking the nearby spot where Ansel Adams made one of his most famous photographs, 'Moonrise Over Hernandez'."
Santa Fe, is the oldest capital city in the United States and is located 7,000 above sea level in New Mexico. The State Capitol Building of New Mexico known as 'The Round House' is situated in Santa Fe. The architecture is the traditional adobe Pueblo Revival Style and has been retained througout resulting in a picturesque town. Tourism is an important economic activity with art being a key attraction.