6.2 EPSON CHALLENGES LUMIS TO PATIENCE
Patience is a virtue. The cost of using sophisticated technology and equipment in the third world and how to deal with complications is an experience worth sharing. There is no way to shorten this story – this is the very abridged version!
I purchased an Epson 4900 ink jet printer in 2011 – it is a professional printer and weighs 115 pounds. After 15 months and having pulled only 500 odd prints, the printer stopped working – of course just out of the one-year guarantee period.
After running all the recommended ink cleaning cycles I realized I was just paying for expensive replacement ink cartridges. After some initial local enquiries I learnt my first lesson: I had little choice but to bring in an authorized Epson technician from the USA to repair the printer.
Would you believe that the technician located in Florida turned out to be a Trinidadian who was here for Carnival and was able to have a quick look at the printer, diagnosing a defective ink-pump. Okay so our expert [lets call him KG] returns to Trinidad to replace the defective pump, but being a prudent person, I made sure to ask him to bring a replacement print head and capping station in case they were also found to be defective once the ink started flowing again. KG replaces the pump and ink starts flowing. Oops, but the print heads are still clogged. We tried cleaning the print heads but after hours of trying we had to accept that after 5 months the inks that were left in the print heads had clogged them permanently. Okay, we had foreseen this possibility and that is why we made sure to bring a new print head. We install the ne print head. What can I say? The new print head is defective! Nah, I don't believe it! Does Epson test these heads? How could this possibly happen? So we put the printer back together again and call it a day and my expert returns to Miami a bit forlorn after a fruitless weekend for him. I am happy to say that our Trinidadian technician since returned and replaced the print head and now my 4900 is printing again. Yipee! This took 6 months, some cash and lots of patience!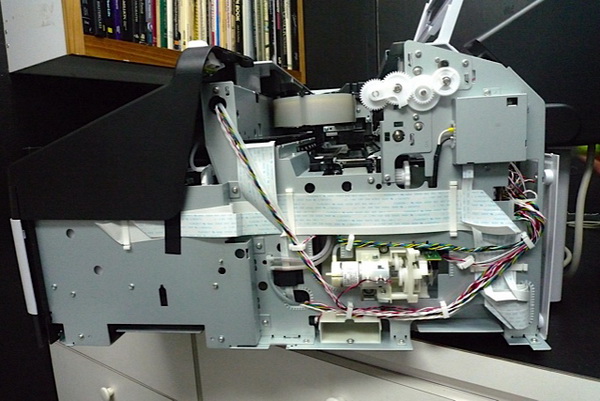 Impressive guts of the printer under repair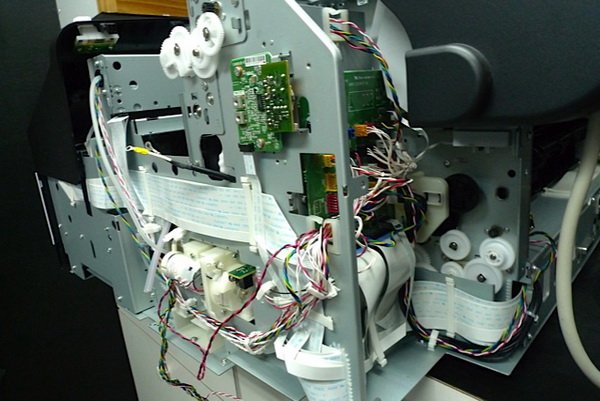 Replaced the inkjet pump, the capping station and print head – virtually a new printer