1.1 CONTEMPORARY CARIBBEAN ARCHITECTURE
December 1, 2012 by Brian Lewis
I believe there are some excellent examples of contemporary architecture in the Caribbean and that condensing them in a book could have a significant impact on the direction of architecture within the region. Caribbean architects need to step up the promotion of their work in regional and international magazines if they are going to progress and get beyond 'Caribbean Colonial' to deliver 'Contemporary Caribbean Architecture'.
The book I am working on entitled 'Contemporary Caribbean Architecture' is intended to be a high quality, large-format architectural publication of approximately 300 pages that will showcase 45-50 projects. Each project will have a thumbnail floor plan, a brief explanation of the design intent and between 4 to 8 pages of high-resolution images. The architect for each project will be named and there will be a directory of contributing architects in the appendix.
The plan is to cover the Caribbean in three main groupings:
• Greater & Lesser Antilles
• Windward islands
• Leeward islands
Photography for the book has already begun in the Windward Islands with 18 projects completed in Barbados, Bequia, Grenada, Martinique, St. Lucia, and Trinidad and Tobago. Planning is now underway for a second photographic expedition in 2013 to the Leeward Islands of Anguilla, Antigua & Barbuda, BVI, Dominica, Guadeloupe, Nevis, St. Barts, St. Kitts, St. Martin and US Virgin Islands. The plan is then to complete the photography for the Greater and Lesser Antilles in 2014 and then publish in 2015. If you have or know of suitable projects that are completed in the region please contact me and send a few images. Alternatively send me further details so that I can contact the architect directly.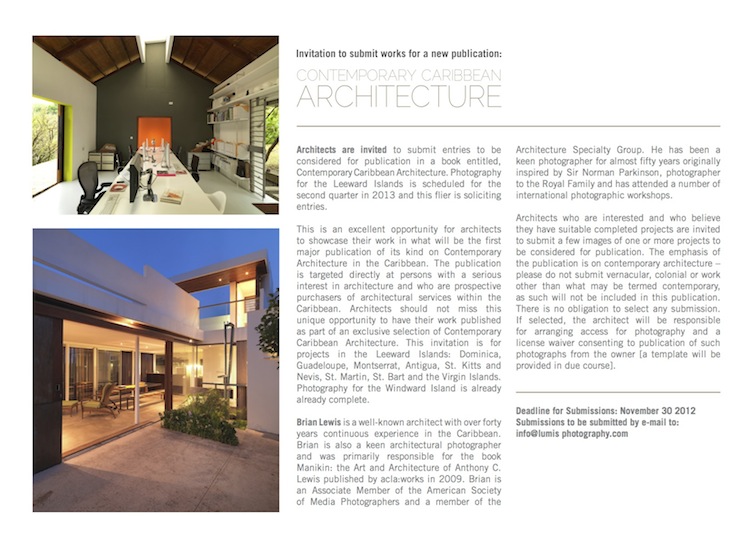 You can find some of the projects listed under the Windward Islands or by searching for the individual islands Barbados, Bequia, Grenada, Martinique, St. Lucia and Trinidad and Tobago or by the architects acla:works, Architects Cubed, COCOA, edgley design, Gillespie + Partners, Melon, Mervyn Awon, Olivier Compere and Studio Blue, under the Project heading on the LUMIS homepage.
Finally if you are interested in seeing a mock-up of 'Contemporary Caribbean Architecture' send an e-mail request to info@lumisphotography.com and LUMIS will send you a link to download the mock-up of the book.